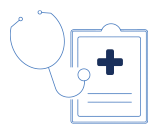 Once you have completed the new patient intake forms and the required blood work you can schedule your pre-appointment consultation.
This is the perfect time for you to ask all the questions that you might have regarding treatment.  We provide this consultation before your appointment with the Doctor to make sure you are properly educated on the medication you are being  prescribed.
This consultation is the perfect time to tell us all about your goals, and how we can help you achieve them. Here are some things we will talk about during the Pre-Appointment Consultation:
Symptoms
Health and fitness goals
What kind of treatments you're interested in
Your current health
Your treatment options
The process of getting your prescription
Cost of treatments, and ways to save on cost
Please click the button below to schedule your consultation.